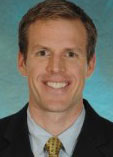 2610 South IH 35
Austin, TX 78704

About Dr. Kelly
Specialty: Cornea and External Disease Specialist; Cataract Surgeon, LASIK
kellyDr. Scott Kelly was raised in Brownwood, Texas and is excited to be returning to his home state to practice ophthalmology. In addition to practicing general ophthalmology, Dr. Kelly is a fellowship trained ophthalmologist specializing in cataract surgery, corneal transplantation, refractive surgery and other corneal diseases of the eye.
Scott D. Kelly online at Super Doctors visit superdoctors.com Dr. Kelly completed his undergraduate work at Texas A&M University, where he graduated Magna Cum Laude in Biomedical Science. Upon completion of his undergraduate degree, Dr. Kelly attended medical school at the University of Texas – Houston Medical School, where he received a Doctorate of Medicine degree as well as a Master's degree in Public Health. Dr. Kelly remained at the University of Texas – Houston Medical School for his internship, and then completed his ophthalmology residency training at the Cullen Eye Institute/ Baylor College of Medicine in Houston. Upon completion of residency, Dr. Kelly moved to Chicago for 1 year of subspecialty training in cornea, external disease and refractive surgery at the University of Illinois – Chicago. He is board certified by the American Board of Ophthalmology.
Dr. Kelly is married with three children. His wife Beth is also a physician, currently working as a part-time radiation oncologist. He has 3 children, Luke, Ben, and Winnie. He is an active member of Tarrytown United Methodist Church, and is a committee member of the Travis County Medical Society. When not at work, he enjoys cooking, archery hunting, fishing, and spending time with his family.
To schedule an appointment with Dr. Kelly, please book an appointment online, contact Howerton Eye Clinic, or call our Appointment Line at (512) 443-9715 today.