901 South MoPac
Suite 470, Bldg. 1
Austin, TX 78746

About Dr. Nemeth
Dr. Dora Z. Nemeth, born and raised in Budapest, Hungary, moved to the United States with her family in 1984.
After graduating summa cum laude from Southwestern University, Dr. Nemeth attended the top dental school in the nation, the University of Texas Dental School in San Antonio. During her doctoral training, Dr. Nemeth received numerous awards for academic and clinical excellence. Additionally, as the 1994 and 1995 National Institute of Health Research Grant recipient, she wrote and published research papers on biomaterials and orthodontics. Upon her graduation from dental school in 1997, Dr. Nemeth was selected for membership to the National Honorary Dental Society.
Since beginning her professional career in Austin, Dr. Nemeth has continued to be involved in all aspects of dentistry. She has served as the Dental Health Chair on the board of the Tenth District Dental Society and as Vice President of the Texas Association of Woman Dentists. She is currently a member of the American Dental Association, Texas Dental Association, Capital Area Dental Society, Texas Dentists for Healthy Smiles, and United Who's Who Professional Honors Society. She has also been chosen as one of the "Top Dentists" in Austin by her professional peers in 2007 and 2008.
Dr. Nemeth regularly attends continuing education and training courses and strives to be a leader in the latest dental technologies. Through a series of comprehensive occlusal management courses, Dr. Nemeth has gained refined treatment skills in the areas of temporomandibular joint dysfunction and restorative orthodontic/orthopedic treatment. Incorporating these neuromuscular concepts, she has been focusing on cosmetic dentistry and full mouth rehabilitation in her practice. She also enjoys volunteering her dentistry to charitable organizations, such as the Texas Dentists for Healthy Smiles Program.
Dr. Nemeth and her husband, Brandon, have three daughters, Kinga, Zsofia and Csilla. Outside of work, her interests include ballet, Pilates, running, traveling, and arts and crafts.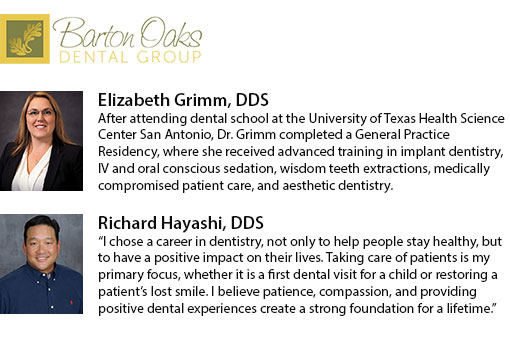 We work hard with your insurance for every qualified payment. You should always contact your insurance company to get confirmation before doing any procedure. We work often with Care Credit and take most major credit cards. Contact us if you have any questions.
512.327.6947